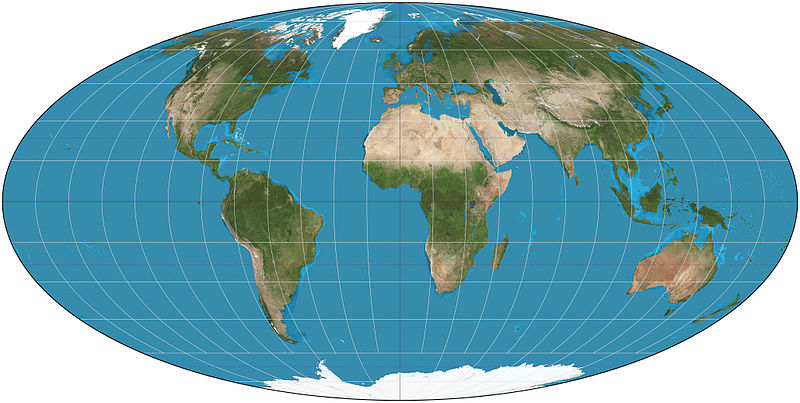 (Image from Wikimedia Commons)
I've had the good fortune to travel to quite a few places in my lifetime, especially during a phase where I traveled quite a bit for business. Alarmingly, my memory of exactly where I've been – especially for one-time short business trips – seems to be slowly fading, so creating a record seems like a reasonable idea.
This page will really have little value to anyone other than me, where I have more memories/thoughts of a particular place (or country) – and have taken the time to capture this – there's a link to a separate page.
Australia
Melbourne – Flew here in 1994 – my first business trip, on my first co-op term – to talk with a company that made barcode scanning hardware we used on a project.
Austria
Vienna – Beautiful European city I visited several times to see Mobilkom. Still remember talented music performers in an archway on the street with amazing acoustics; also eating in a building that was supposedly 400 years old.
Belgium
Antwerp – I visited the "diamond capital" of the world while attending a summit on something at an Alcatel-Lucent office there.
Brussels – Spent a couple of nights here in transit enroute to other destinations in Belgium.
Namur – Small, peaceful town I visited for a couple of days to see a team at Alcatel-Lucent that was based there. Like much of Europe, has great local bakeries.
Canada
Algonquin Park, ON – Went camping, swimming, mountain biking with university friends here once. It's really nice, mostly untouched – but boy, if you're used to the tropics, even in the summer the water is freezing!
Barrie, ON – Christmas or other occasions would often happen in Barrie at Uncle Eric's.
Bruce Peninsula, ON – Nice nature getaway during the summer, if you like hiking, lakes, and the countryside.
Deep River, ON – Little town of 5,000 I was born and lived in through 1982.
Montreal, QC – Visited a few times during University, and again in 2006 when we held GenieSummit, VoiceGenie's annual conference, there.
Niagara Falls, ON – At under 2 hours away from Toronto, it's worth seeing the massive falls at least once; we took visitors on a few occasions.
Ottawa, ON – My aunt and uncle live here, so I visited a few times as a kid, and quite a few more times in the late 2000s.
Ottawa River, ON – I don't know the name of the town we were closest to, but I sometime around 1998 – 1999, I went on a white water rafting trip up here which was lots of fun.
Toronto, ON (including Mississauga, North York, Scarborough) – My home during grade 8 and high school (1988 – 1993), my early work career (co-op from 1994 through 1998, full time 1998 – 1999), and the time I spent with VoiceGenie, Genesys, and Alcatel-Lucent (2002-2011).
Quebec City, QC – I was here for just one day, I believe for a meeting with Bell Canada.
Vancouver, BC – Had just visited once before we moved to Kirkland; since then, we visit three or so times a year.
Waterloo, ON – I went to University here (1993 – 1998).
Whistler, ON – Famous ski place that I've visited three times and never skied (or snowboarded) at.
China
Beijing – Spent a few days there prior to and during my boss's team meeting in May 2011. Incredibly history, stunning juxtaposition of the rich and poor, great city to visit.
England
London – Visited as a kid (World's Biggest Toy Store!  Wimpys! Lots of pigeons in Trafalgar Square!).  Went back once for business and wound up a 5 minute walk away from my Danish best friend from elementary school.  Met up with family there a couple of times since when they were there and I was nearby in Paris.
Finland
Helsinki – An OMA standards meeting held here in 2009 provided a great reason to visit and meet with the standards team.
France
Brest – Spent one day here visiting with Alcatel-Lucent Enterprise team members.
Nice (and Sophia) – Great place in the south of France that I got to visit during due diligence on OpenPlug; Alcatel-Lucent subsequently bought the company.
Paris – Many visits to Alcatel-Lucent's offices here, with a personal vacation stuck on at least once. I love Paris – the food, the buildings, just being able to walk around.
Rennes – Came here once (with Valerie) to see the Alcatel-Lucent MRF team.
Strasbourg – Nice town in eastern France near an office where much of the Alcatel-Lucent Enterprise team was based.
Versailles – The palace here is pretty spectacular; but looking at the beds and toilets of kings, you realize we all live better than that today.
Germany
Frankfurt – I've flown through this airport so many times, it almost feels like I've actually visited.
Munich – A one-day pure-business trip around 2010, to support sales I think, and of which I remember very little!
Hong Kong
Stayed with my uncle there as a kid, visited with University friends, and had overnight transits several more times – most recently in December 2013.
Ireland
Dublin – I came here for a day once during the late VoiceGenie / early Genesys days to help support sales with something for eircom, I think.
India
Mumbai – Flew here for 24 hours on business to see Reliance; presented ~120 slides in 8 hours, then flew home. Nonetheless, it was an eye opening experience!
Japan
Akashi – Sugawara San's hometown; we were able to spend a few days there in the mid 2000s.
Fukushima – Our friends took us on a really nice getaway to a B&B in this area, and to Mt. Azuma-Kofuji.

Kyoto – A visit to the historical capital is a must if you appreciate Japan's history, culture, or architecture.
Mishima – Valerie worked here for a year, so we visited in the mid-2000s and met her former co-workers.
Narita – Tokyo's main international airport is about an hour away in Narita. I've flown through many times, but in the mid-2000s, we spent a day here, and it actually has nice temples, gardens, and walking of its own.
Osaka – We stayed here a couple of nights during a ~10-day trip to Japan.
Tokyo – I started visiting on business in 1999, and have made about 10 trips including for vacation; always a pleasure to visit.
Yokohama – Our friends treated us to a Chinese dinner here on a couple of occasions.
Malaysia
Batu Caves – Lots of steps up, then lots of stalactites and stalactites. And bats.
Cameron Highlands – Nice retreat from the warm temperatures; I've been up a dozen or so times on vacation, staying at a family home.
Genting Highlands – Hilltop resort with gambling (illegal elsewhere), visited once or twice but with few memories.
Ipoh – Lunch stop for us on the way to Cameron Highlands (or Penang).  Ipoh Kuey Teow!
Kenyir Lake – Artificial lake in Terengganu; people go there to fish, but I seem to recall that the toman fish there could eat whole monkeys!
Kuala Lumpur – I lived here from 1982 – 1988, have visited many times since, and it always feels like home despite massive changes.
Klang – Port town an hour west of KL that we seemed to visit to eat crabs (which I don't really eat).
Lumut / Pangkor – I spent a week here in 1987 (or 88?) on at Wilderness Adventure Camp, with my school.
Malacca – Historical port town south of KL, occupied by many nations over time; I went there for a school field trip.
Penang – Island city on the northwest coast we've visited on several occasions.
Port Dickson – Seaside town about 1.5 hours west of KL; spent some time playing on the beach here as a kid, got stung by a stingray here!
Pulau Lankawi – Island in the northwest that we went with the family to on our "honeymoon" trip.
Pulau Redang – Beautiful island off the east coast with some amazing snorkling, at least back in the 90s.
Rantau Abang (and Kuala Terengganu) – A beach on the east coast in Terengganu we made a number of childhood trips to, often to see giant leatherback turtles laying eggs.
Taman Negara – National forest, with lots of wildlife.  I visited once in 1999 with friends from University.
Poland
Warsaw – I was here for one day, on a business trip, meeting with a VoiceGenie partner. I was surprised that pirogis were still like $15; I thought they'd be inexpensive!
Singapore
Most often we transited through Singapore, but I've spent a day or two at times with family. Nice airport!
Spain
Barcelona – Came here with Valerie for Mobile World Congress 2006 + planned vacation, had to leave her after a few days with Aimee due to acquisition due diligence.
Taiwan
Kaohsiung – Valerie's hometown, which I've visited four or five times.
Pingtung – Perhaps the best aquarium I've ever seen is here.
Taipei – We often fly in/out of here on trips to Taiwan, with a few days to see family and sites nearby.
Taoyuan – Visited several bakeries and other attractions near here on a 3-day transit in early 2013.
The Farm – Valerie's dad has a container house out here that we spent a night in while doing some nearby tourism.
United States (outside Washington)
Scottsdale, AZ – The first conference I attended with VoiceGenie, TVUI, was held on a resort here. Boy it gets hot!
Grand Canyon, AZ – We took a day trip here from Las Vegas. Makes you feel pretty small; try to go for sunset or sunrise.
Half Moon Bay, CA – We came to this outpost on the Pacific coast for a Genesys engineering meeting in the late 2000s; nice views of the ocean.
Los Angeles, CA – Have flown through countless times, never a pleasure! One business trip here around 2000; attended a Final Fantasy concert here in early 2000s.
Mountain View, CA – Many trips to Silicon Valley, generally for work, and especially since joining Google.
Muir Woods, CA – Really, really tall trees.
San Francisco, CA – Countless trips, often to Daly City (a little south) as that was Genesys' HQ – but some vacation/family time too.
Yosemite, CA – True natural beauty, and highly worth visiting; we went in September 2009.
Washington, DC – We came into town to visit the Smithsonian museums, and once for the 4th of July.
Key West, FL – Valerie and I spent 3 days here in April 2006 on a VoiceGenie President's Club trip. Tried jet-skiing for the first time. Thanks Thomas!
Miami, FL – Attended a Genesys customer summit in September 2006, stayed at the very nice Trump International hotel here.
Orlando, FL – We visited Disneyworld here in early 2001.
Atlanta, GA – Traveled here a few times on business, but never really explored; I was always out in the suburbs, somehow.
Chicago, IL – Frequent transit hub; I must have flown through a dozen times or more. Only went into the city once, with Thomas C. for a dinner with Oracle – awesome steak!
Naperville, IL – Large Alcatel-Lucent facility here I visited quite frequently, and a large contributor to flying through Chicago. Riverwalk was pretty nice!
Boston, MA – Came here various times but always on business, with Brooktrout, Speechworks, Alcatel-Lucent, and perhaps others. Chocolates for Valerie at Neimann Marcus (Frank T. wanted to pick something up there) were expensive!
Baltimore, MD – Not too far when we lived in Ashburn, we came up here once for dinner near the harbor.
Detroit, MI – Drove to attend a W3C meeting here, in the big GM complex downtown.
St. Louis, MO – Spent one night here on a business trip; walked a little, but don't remember much other than the arch.
Bozeman, MT – Small town with lots of charm, surrounded by mountains with lots of natural beauty. Came for a meeting with RightNow technologies; one cancelled flight meant an 8 hour delay. Tried bison for the first time – very tasty! I can definitely see why people might want to live here.
New Orleans, LA – Did a 2-day visit to cross the 100k Aeroplan threshold in 2010, discovered a unique North American city with lots of local charm.
Omaha, NB – Traveled here once on business, with Teleperformance I think? Remember winding up in a dodgy part of town just trying to get gas for the rental!
Middletown, NJ – Storied headquarters of Bell Labs, where cool things like Unix were invented; I first visited elemedia here, later AT&T as a customer.
Newark, NJ – I've flown through Newark airport perhaps 20 times. Never will it grow on me. Delays seem inevitable here.
Summit, NJ – Alcatel-Lucent's US headquarters is here, so I traveled here a lot.
Las Vegas, NV – Hotels, casinos, food, shows.  Came here once with Valerie circa 2007, then again with Valerie's family in August 2009.
Buffalo, NY – The first hop driving into the US from Toronto; also, outlet malls, and got my SSN here.
Ithaca, NY – Home of Cornell University, which I visited for the graduation of my cousins Kevin and Vincent.
New York, NY – Vacation for New Years here in 2000 -> 2001, have also come for business a handful of times – just before 9/11, and with Google in 2012 and 2013.
Rochester, NY – I bought my first "real" project (Sony VPL-VW50) here – didn't see the city, though, as we drove to the suburbs here after work, then went home immediately!
Philadelphia, PA – Attended Chin Aun and Chin Pang's graduation here in 1996.
Houston, TX – Spent what felt like a week or so here in 1989 when my mom was being treated at Arthur Anderson here.
Ashburn, VA – Our home from 1999 – 2001 while working for Comdial, ePhone, and ETI in the US.
Charlottesville, VA – Comdial's headquarters, which I visited maybe 3 or 4 times. Watch out for speed traps!
Herndon, VA – Comdial's Array Telecom (and subsequently ePhone) offices were here.
Luray, VA – The Luray Caverns are here, and extend deep below ground. Quite the sight, and a nice drive too.
Roanoke, VA – Valerie and I spent one night here when she dragged us to play badminton at the Commonwealth Games held here.
United States – Washington
Bainbridge Island, WA – Just west from Seattle by ferry, it's not a bad day trip and it's interesting to walk around.
Edmonds, WA – Nice stretch of beach we've taken the kids to on several occasions, plus other seasonal events.
Friday Harbor, WA – Went on a whale watching cruise with Google co-workers in July 2012. Not so many whales, but nice cruise, and pleasant place to visit.
Hurricane Ridge, WA – Nice view from up in the Olympic mountains, with decent hiking trails.
Issaquah, WA – We go to the Costco here all the time, but the salmon hatchery is worth seeing when the salmon are spawning.
Kirkland, WA – Our home and my work since October 2011. We're often in Bellevue to the south or Redmond to the east, too.
Mount Rainier, WA – The whole national park area around here offers lots for hikers, and Mt. Rainer is something to see up close.
Mount Vernon, WA – Not actually a mountain, but home to spectacular tulip fields.
North Bend, WA – I doubt any outlet mall is surrounded by such a picturesque set of mountains; we've been probably 5-10 times.
Olympia, WA – We visited the capital once when on a camping trip.
Seattle, WA – Just across the bridge, we're generally down there every couple of months for something.
Sequim, WA – We stayed at a nice B&B with the family while exploring the Olympic Peninsula.
Stevens Pass, WA – Went here with Googler co-workers on a team ski trip. Plenty of fun, despite (because?) I have no idea how to ski.
Twanoh State Park, WA – There's an annual clam hunting event on a beach here; we went in 2012. I don't like clams, but interesting to see once.
Hiking – Rattlesnake Lake, Twin Falls, Kelsey Creek, Franklin falls are all great hiking trails we've been in there are a reasonable distance from Kirkland.