I've watched professional video gamers duke it out long before "eSports" had any awareness outside of a small niche, and when a company like Amazon spending close to $1 billion to buy a videogame streaming service (Twitch) was essentially unthinkable. While I'd seen the occasional televised Starcraft 1 match that aired on Korean TV, this started in earnest in 2010 when Starcraft 2 first came out – I was an early GSL subscriber and have watched consistently since then. But I'd never had the chance to attend a live event – until Heroes of the Dorm, an annual collegiate Heroes of the Storm tournament, came to Seattle the weekend of April 9th.  Fortunately, my two kids are also fans, and the game itself doesn't have a following the size of League of Legends or DOTA 2, so getting tickets wasn't nigh impossible.
Unfortunately, although the University of Waterloo (my alma mater) was highest seed in their division, and the University of Toronto was second in theirs, they both went out early, so the event was between four schools I didn't know – UT Arlington, UConn, Tennessee, and the ultimate winners, Arizona State.
The event itself had great production values; Blizzard clearly invested well beyond the direct economic value of the event, likely as part of an effort to bring eSports further into the mainstream, and to establish Heroes as a competitor in a genre that earlier Blizzard games (Warcraft 3) spawned, but that Blizzard is a distant third in by player or viewer base. No doubt, they had to guarantee a decent level of quality since the finals were televised on ESPN2! No matter the justification, the event held up to the high standards of quality that Blizzard has consistently held to (they've cancelled essentially finished games that weren't fun enough and eaten the cost).
They had quite a few Blizzard staff on hand to meet with fans and sign posters – like Chris Sigaty (front) and Dustin Browder, who also had key roles on Starcraft 2:
The stage setup was pretty cool and highly custom, yet still reasonably intimate – making good use of the space in Seattle's CenturyLink Event Center:
My favorite casters were on hand to cover the action! I've watcehd Tasteless and Artosis (left) cover Starcraft 2 including the GSL for more than five years, and they're the best duo at it out there. Gillyweed, right, is a great Heroes of the Storm caster, who was also charming in person when we got to meet her after the event. It's great to see women in gaming, especially with my daughter Olivia already feeling unusual for being a girl that likes videogames – and Gillyweed's insight into the game is very often the best among those on the panel.
Blizzard's co-founder and CEO, Mike Morhaime, was also on hand to congratulate the winners:
It's ironic that the matches aired on ESPN (as opposed to YouTube or Twitch), since as cord-cutters, this means we wouldn't actually have been able to watch the finals live if we hadn't shown up in person. This was doubly ironic, as the camera crew probably found the presence of my kids to be amusing, and used them in one of the shots of the crowd – so we were on TV!…. that we don't even have access to. Fortunately, the VODs were ultimately posted to YouTube, allowing us to find ourselves at 1:04:56: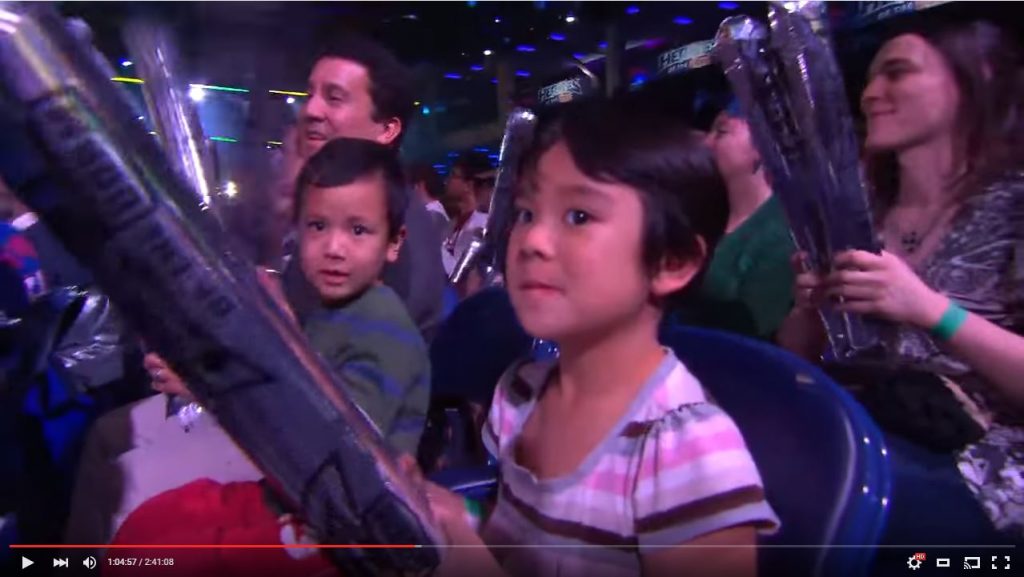 Especially if you're into the game, there were lots of goodies to go around; they really rewarded those who showed up. There were lots of in-game heroes and skins, t-shirts, high quality mini figurines, and other items. I got the Arthas and Stitches mini-figures:
Olivia (who got first pick, as the tickets to the event were a part of her birthday gift), chose Nova, and Cloaked Nova. She made a bed for them, in which they almost look like regular kids toys – if you ignore the barrel of the sniper rifle peeking out:
I'm told that these accommodations simply won't do, though, and that we need to make them a bunk bed, out of actual wood!